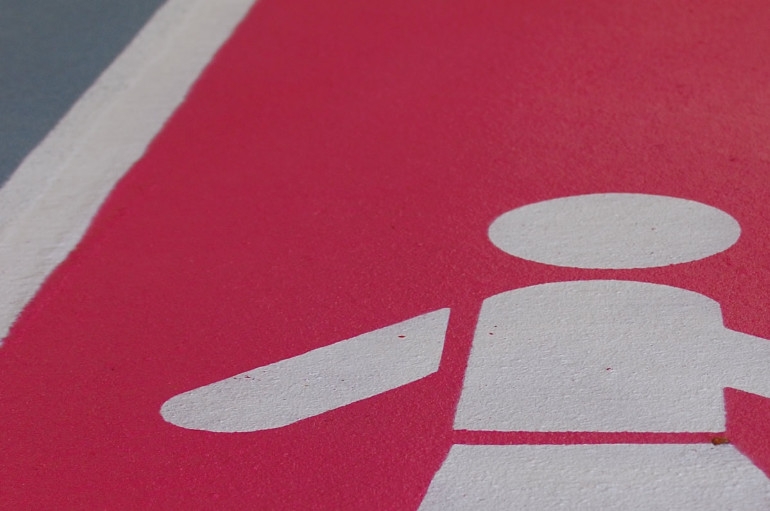 I leave the supermarket with two loaded bags of groceries; I've just spent 15 minutes in a checkout queue and glad to leave the noisy, chaotic, brightly lit environment. As I leave the store the entrance door alarms are activated, lights flash, alarms are sounded.
A mother and small child have been stopped, I pause to watch.
A squat looking man wearing an ill fitting uniform deactivates the alarm and starts talking to the woman, a few moments later the contents of her plastic shopping bags are turfed out and lay strewn about the supermarket floor.
After a while the security guard allows her to repack her purchases and leave the shop, the fault appears to be related to an over sensitive alarm system, it goes off again a few seconds later.
I leave the shopping mall and start my short walk home.
I notice that the basement level of the shopping centre multi story car-park is deserted, unusually there's not a person or car to be seen.
The concrete pillars that support the upper levels and the red parking lines catch my eye, I am enticed by the space and geometry, I wander in to take a closer look.
I decide to take a couple of photos of the reinforced pillars and parking lines, I place my shopping bags on the floor and take out a Nikon SLR from my shoulder bag, I snap off a couple of random shots, I'm particularly interested in the simple figurative instructions that are painted onto the walkways.
Within a few seconds I hear a distant call, someone is shouting "hello".
Across the empty expanse of car-park I see a middle aged uniformed man purposely striding towards me, I place the camera back into my bag and take a few steps towards him.
The man is sweating, he is unhealthily out of breath, he has clearly rushed at some speed to meet me. In his right hand he has a bulky two-way radio.
The security guard slows his pace and states in a somewhat panicky voice … "You can't take pictures here".
I tell him that there are no signs informing the public of this. He tells me that there are signs near the main entrance. I explain that I have come in via the side gate and there were no signs in evidence. This confuses him for a moment; he shifts from foot to foot and then states that this entrance is not a public thoroughfare.
The security guard goes on to inform me that if I wish to take photos I would need to get authorisation from 'the management'. I tell him that I am happy to do this and would arrange it if I decided to return.
The jobsworth seems to be perplexed by this and informs me that I should go with him now, this minute, to meet the management.
I explain that I am not happy to meet with them now and if I do decide to return to take photos it would be at a later date. The jobsworth reiterates that I should go with him now.
I ignore his request and as I walk away his two way radio crackles into life, a disjointed male voice can be heard saying "it's alright, we've got him now on CCTV".
I leave the car park the way I had entered it, there are no signs suggesting that the side entrance is closed to the general public.
I take with me a couple of 'unauthorised' random photos of an empty car park and they, the management, have one of me.
Posted: by Leeroy.
---